CBC posts touching article about Abeny Kuol leaving the safety of Canada to offer help in South Sudan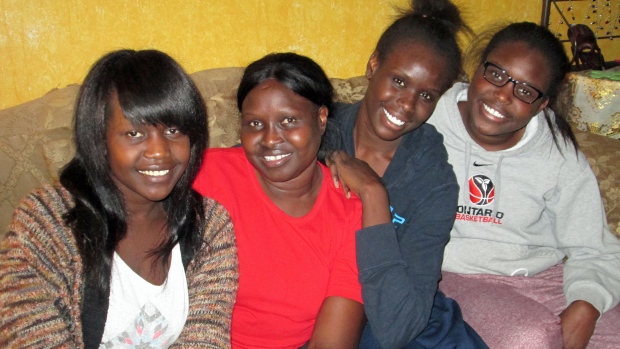 Abeny Kuol
CBC news recently posted a touching article on Abeny Kuol along with the radio documentary "She's Still Here".
The article is titled "Former refugee returns to South Sudan as aid worker – Abeny Kuol is leaving the safety of Canada to offer help in South Sudan."
—article —-
Feb 02, 2014 6:00 AM ET CBC News

Listen to the CBC's Sunday Edition's radio documentary -it's touching.
Abeny Kuol knows about danger.
As a very young mother in Sudan in 1984, she was desperate to flee the fighting around her. She carried three small daughters – in her arms and on her back – first across Sudan, then later through Ethiopia to Kenya. It was a journey that covered thousands of kilometres and took many months.
Her husband, father and brother were killed in the fighting in Ethiopia. ​Kuol moved from refugee camp to refugee camp, with people dying all around her, until 1999 when she and her girls made it to Canada. They've lived in London, Ont., ever since, but they haven't forgotten where they came from.
"I always tell my children: we are survivors," Abeny says.
A new country born in hope, South Sudan is now a dangerous place engulfed by a new civil war. Political friction turned violent Dec. 15 as countrywide battles broke out fuelled by ethnic conflict laced with political power plays. South Sudan's government and rebels signed a ceasefire deal Jan. 23, but violence has continued throughout the country. Thousands have been killed and tens of thousands are again refugees.
Two weeks ago, Abeny Kuol spoke to CBC's The Sunday Edition just before departing for South Sudan. Abeny has returned to her homeland several times to work with mothers, schools and orphans. This time she headed there with an aid organization, Canadian Aid for South Sudan (CASS).
"I want to help in the development of South Sudan," she says. "I want to help create the nation. I want to see a country in which no one is hungry. That is really burning in me."
"I want to be there for them. If my children are hungry and have no money, no food, they can go to a food bank. The children there, if they have no food, they sit down and die."
Three of her daughters – Nyel 23, Yom 19 and Naomi 14 – still live at home with her and will have to fend for themselves while she's gone. It's not easy for any of them, but this is a family that is used to "not easy."
Abeny says she feels as if the children of South Sudan are partly her responsibility. When her own children ask why she is going back, she says she tells them: "So many lost their mothers. I am their mother too. God let me survive for a reason – I lived because I need to look after the other children. You are my children, but let me go and help your siblings in South Sudan."
CBC's Alisa Siegel visited the family as Abeny prepared to take her leave. Listen to The Sunday Edition's radio documentary, "She's Still Here," in the player at the top of this page.
You can also  Click here  to view article and listen to documentary at CBCNews.ca